Global Pandemic Changes College Admission Process; Importance of Standardized Tests Called into Question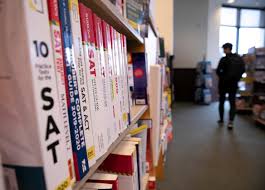 Believed to be a predictor of one's college success, SAT and ACT exams used to be of the utmost importance to college admissions officers, and consequently prospective students. The College Board and ACT, Inc. have collectively made billions of dollars annually by offering their exams to students. In past years, these standardized tests have been taken by over 2 million students, as most universities require the submission of test scores. However, amidst the COVID-19 pandemic, testing requirements have significantly changed, possibly altering the course of future admissions cycles.
In previous years, SAT and/or ACT scores, personal statement essays, recommendation letters, coursework, and extracurricular activities have all contributed to the strength of one's college application. While the preferred score ranges differ from school to school, most universities that require the submission of test scores use such scores to immediately eliminate applicants who are out of the school's average range. This preliminary elimination then creates a smaller pool of applicants whose entire application will be considered, rather than just a score. Many universities have awarded merit scholarships to students based on how well they scored on their SAT or ACT exam. As a result of this importance, most schools have upheld a requirement for the submission of scores, and, as such, students have placed a great emphasis on scoring well on these exams. However, the importance of these standardized tests may change as the COVID-19 pandemic has dramatically impacted the weight of testing scores within students' applications. 
With the countless cancellations from test centers across the nation over the past six months, colleges have reconsidered their application requirements. Over 400 schools, including Ivy League schools, have joined universities such as UChicago in their test-optional policy. Such policies do not penalize students for not submitting testing scores. Students may submit their scores if they have taken these exams and believe their scores will positively impact their application. Eliminating the testing requirement has made other components, especially personal and supplemental essays, more valuable in the application process. 
The changes within the application process may extend beyond the COVID-19 timeframe. The adoption of test-optional policies has forced many universities to rethink what is important within each students' application. Students' narratives, GPA, and rigor of coursework will be more important than ever. College admissions expert Jeffery Selingo claims, "Once their world doesn't come crashing down and they still recruit a class, those colleges are not going to flock back to the test." With more schools swaying toward test-optional policies, the future of the College Board and ACT, Inc. remains in the balance, and the policies adopted during the COVID-19 pandemic may impact admission criteria for decades to come. 
Disclaimer: Article draws upon coverage from the New York Times and the Wall Street Journal