November Artist of the Month: Bonnie Lin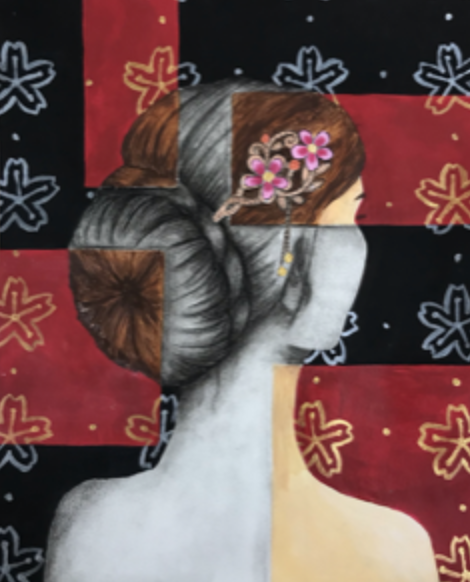 For the month of November, The Current is featuring Bonnie Lin as Artist of the Month. The high school senior and AP Art student began creating art as a young child, and her talent has inspired her to work in interior design. Bonnie's use of color and attention to detail is evident throughout her pieces, and display her connection to her work. The following is an interview with Bonnie Lin.
DB: What is your preferred medium to work with? 
BL: I usually work with colored pencils and markers when I want to casually draw something. I have also been doing a lot of acrylic paintings lately. 
DB: Where and when did your passion for art begin? 
BL: Gosh, I'm not sure I even remember. I took an art class outside of school back when I was living in Boston, so it should be around the time when I was 6 or 7 years old. I remembered that I really enjoyed the class and everyone there was super nice. I always looked forward to each class and had a lot of fun drawing with the older students.
DB: What does your creative process involve, and how do you find inspiration for your pieces?
BL: There's not really a specific process for me, I tend to just go with whatever I felt like doing at the time. I resort to scrolling through my Pinterest feed whenever I have artist block and need some inspiration. 
DB: What is your favorite piece and why?
BL: My favorite piece is my painting of a girl playing an erhu which is a two-stringed bowed musical instrument that originates from China. Erhu has always been one of my favorite instruments and it sort of just "embodies" the traditional Chinese sound th
at I really enjoy. I think this piece does a fair job in showcasing my skills and is one of my works that I'm really proud of. 
DB: Who is your biggest role model or inspiration for your work?
BL: Marco Antonio Aguilar, Rlon Wang, and feefal on Instagram are just a few of the artists that I look up to. All three have very different styles and themes that are incorporated in their works. 
DB: What are some of your artistic achievements?
BL: I don't have many artistic achievements, but I did draw the agenda cover for the AMD 2016-2017 school year. In the midst of this project, I worked with a friend of mine where she came up with an overall idea of what it should look like while I drew the entire thing with my own little ideas added to it.
DB: Where do you see your art taking you in the future, and would you want to pursue it as a career?
BL: It's only just recently when I have decided that I want to become an interior designer. I figured transforming raw spaces into beautiful rooms would be a great way for me to use my creative side while at the same time, impacting the lives of people in a given environment. 
DB: What drives you to create art, and what do you want your audience to take away from your work?
BL: For me, creating art is one of my all time favorite hobbies and it gives me a sense of accomplishment every time I finish a piece. Whenever I am bored, I would resort to making art or finding something to draw nearby or on the internet. I want to inspire people into making their own art, even if they think that they're bad at it. 
DB: Where can people find your work? 
BL: As of right now, my work can only either be found on the walls of my house or in a folder shoved on a shelf. I usually only show people my drawings when they ask to see it.