The Death of Kobe Bryant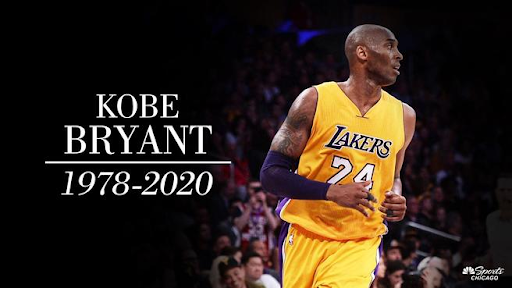 Just one night after LeBron James surpassed Kobe Bryant's career points record, Kobe Bryant and his daughter Gianna Bryant, as well as seven others, tragically died in a helicopter crash. At 9:20 am (PST) on January 6th, it was another regular helicopter flight for Bryant and the eight until inclement weather led to the pilot losing vision and control, and about an hour later the helicopter crashed into the side of a mountain in Calabasas, north of Los Angeles. It was clear that nobody survived the accident. Along with Kobe and his daughters, his parents and his daughter's teammate's family were also in the helicopter and died. When the news broke, many including myself couldn't even comprehend what had happened so suddenly. Kobe Bryant was supposed to be one of those celebrity figures that would live his life until he grew old. He just started his life outside of the game of basketball, and there was so much potential for him to add to his illustrious legacy in the NBA. Many were also distraught for the losses of the other eight, including Bryant's daughter Gianna. He always said that Gianna, his second oldest was the heir to his basketball legacy as she had aspirations to be a superstar in the WNBA and create her own legacy.
He, along with his daughter, were two of the seven other victims. Among the victims, there were two families on the helicopter, John Altobelli. Keri Altobelli, Alyssa Altobelli, Christina Mauser, Sarah Chester, Payton Chester, and Ara Zobayan who was the pilot. There is heavy speculation around the flight as it is said that the helicopter took flight in poor weather conditions and had special permission to fly. According to LAPD press conferences, the helicopter was ill-equipped with the necessary equipment for a regular flight. There were clear issues with the helicopter which could have attributed to the eventual accident. 
The social media outpouring was enormous as every ranging from NBA players to even fans were affected by the loss of Kobe Bryant. Bryant represented a generation of basketball for current NBA players as many idolized him and wanted to match his greatness on the court. Former teammates and many NBA players took to the court to express their respect for Kobe as many teams took 24-second shot clock violations or 8-second backcourt violations, representing Kobe's two famous numbers, 8 and 24. An unofficial retirement of his jersey has started as almost all players with the number 8 or 24 have switched to another number, but some want to switch back to those two numbers with respect for Kobe. While Bryant has had his downs in his career, many of these players saw Kobe in a different light, almost as if he was a god. When former teammates and players that knew Kobe well were asked about him, many couldn't hold back the tears during these interviews. Players like Shaquille O'Neal and Tracy McGrady shows their emotions when talking about Kobe and what they remember most.
Lebron James' Instagram post said what many had on their minds. Just the night before Bryant's passing, he passed him in total amount of points in an NBA career, moving up to 3rd all time. " … Man I sitting here trying to write something for this post but every time I try I begin crying again just thinking about you, niece Gigi and the friendship/bond/brotherhood we had! I literally just heard your voice Sunday morning before I left Philly to head back to LA. Didn't think for one bit in a million years that would be the last conversation we'd have. WTF!! I'm heartbroken and devastated my brother!! 😢😢😢😢💔. Man I love you big bro. My heart goes to Vanessa and the kids. I promise you I'll continue your legacy man! You mean so much to us all here especially #LakerNation💜💛 and it's my responsibility to put this shit on my back and keep it going!! Please give me the strength from the heavens above and watch over me! I got US here! There's so much more I want to say but just can't right now because I can't get through it! Until we meet again my brother!!"
The Los Angeles Lakers designed a badge with the letters "KB", which will be on their court for the rest of the season. Along with that, on Friday nights game (1/31) against the Trailblazers, they reserved two courtside seats with Gianna Bryant's and Kobe's jerseys. The NBA in their All-Star game also implemented a rule that in the 4th quarter, the first team to score 24 points in the period would win the game, and each side would be donning either No. 2 for Gianna Bryant or No. 24 for Kobe. 
Sadly, even days after the tragic events leading to the death of Kobe and eight others, the absence of Kobe is felt among the NBA community and globally, and it will never change. We will never see his Hall of Fame speech, or see him ever showcase that artistic talent that won him an Oscar again, or anecdotal stories about his career that were never known before. 
You will be missed Kobe Bryant.