Tappan See You Later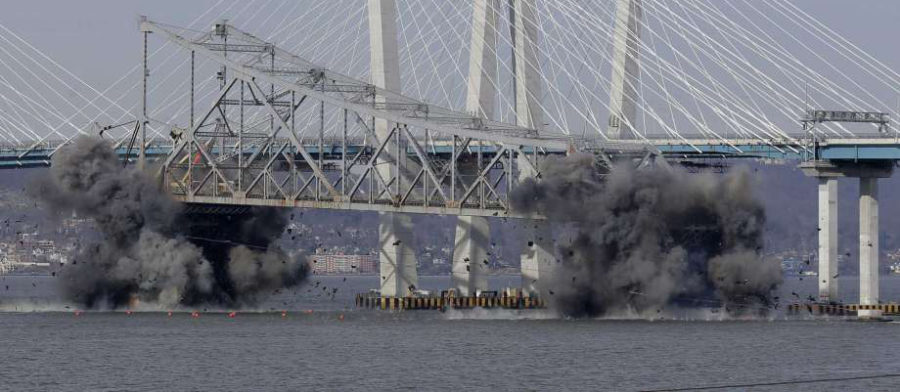 January 15, 2019 was a sad day in Westchester County. The residents of the Hudson Valley lost a close friend–a friend whose loss we will mourn for years to come. Our dear Tappan Zee Bridge was destroyed on that fateful January day, a day children and parents alike will never forget. Any Westchester resident can recall their location when they felt the earth rumble and knew that the Tappan Zee had collapsed. Thousands tuned in to the live broadcasts of the demolition of the bridge, which used explosives and required a 2,500 foot safety zone around the site. My fellow students and I sat on the edges of our seats for forty minutes, as the demolition was delayed. We yelled as we saw, and heard, a sudden explosion, and we stared in awe as the bridge fell, rather quickly, into the Hudson. The hallways of Ossining High School buzzed between fourth and fifth period, as everyone discussed the "earthquake" that had shaken the windows and scared many students.
The original fate of the Tappan Zee was to be dismantled piece by piece. The majority of the bridge was indeed dismantled, but a for a small span of the former bridge this procedure was too dangerous. In September, workers dismantling the bridge heard a loud pop, and discovered that a 672-foot piece of bridge was extremely unstable. They immediately evacuated the piece of bridge, leaving cranes and all construction materials aboard it, fearing that removing them would tip the bridge into the Hudson. Because of the repercussions the collapse of the bridge could have on the Hudson River's fish and wildlife, officials decided that using explosives to bring the bridge down was the safest option.
The Tappan Zee was built in 1955, and at its height, the three-mile long bridge carried 140,000 people over the Hudson per day. Those carried over to Rockland from Westchester or vice versa via the Tappan Zee were heartbroken to see the bridge destroyed. Thousands of Tappan Zee fans gathered by the shore of the Hudson to see the bridge's last moments. The U.S. Coast Guard set up the 2,500 foot safety zone around the demolition site, while engineers attached explosives to only the legs of the bridge, not the upper half, so the bridge would fall directly downward. There was a small chance that the bridge could tip as if fell, crashing into the newly built Mario Cuomo Bridge. Spectators watched nervously as the bridge, thankfully, fell straight down into the safety zone.