"Dear Evan Hansen" Raises Mental Health Awareness Through the Power of Theater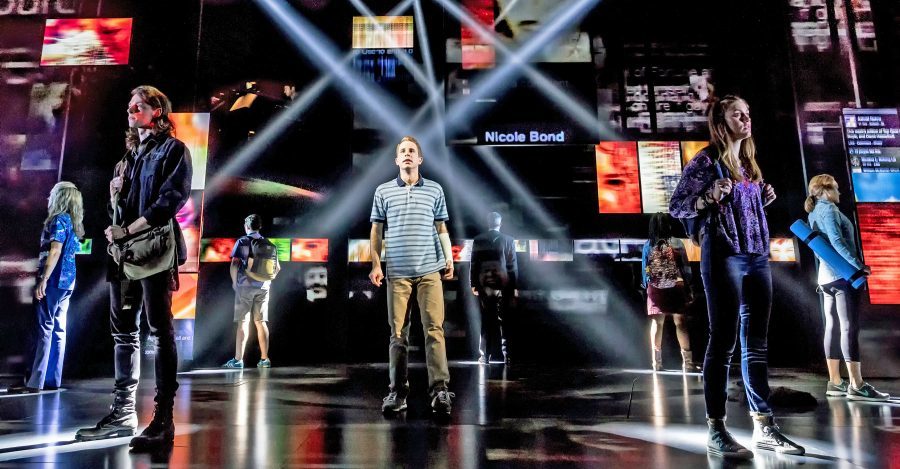 Mental health awareness has skyrocketed to one of the most discussed topics of our age. Why? Mental health was a topic frequently avoided by past generations. What makes our generation so different from others? All teens know the answer–social media. Teens would also argue that social media is not, contrary to many adults' opinions, tarnishing our minds and rendering us incapable to perform any activity without the power of technology. But we do know that social media has its pitfalls, and Dear Evan Hansen encapsulates just how detrimental social media can be to the teenage psyche.
The Tony-award winning musical, with a book by Steven Levenson and music by duo Benj Pasek and Justin Paul, has been on Broadway since November of 2016, after runs in Washington D.C. and off-Broadway. Dear Evan Hansen has gathered a cult following by people of all ages, predominantly teens–they identify with this show more than, arguably, any show Broadway has seen. Kids could relate to Ben Platt's portrayal of the title character–a high school junior with severe social anxiety. Evan is friendless, but when a lie about his classmate Connor's suicide throws him into the spotlight, he is suddenly surrounded by countless new friends, and even a new family. But with these new loved ones, Evan begins to lose what he did not realize he treasured before Connor's death, and becomes quickly becomes entangled in a web of lies.
Never before has a Broadway show so authentically portrayed teenagers and their relationships with their families. The representation of real teenagers ans adults on stage is unprecedented. Every character has their own flaws and has their own way of attempting to cover up those flaws. Every member of the audience can relate in some way to one of the characters, whether it be the over-achieving student who hides their loneliness, the offensive jokester who makes fun of others to compensate for their self-consciousness, or the parent who hides their emotions for what they think is the well-being of their child.
The vulnerability of the exceptional actors who bring life to these characters is astounding. Platt let Evan take over him; he fidgeted and stuttered so believably that the role actually took a toll on his mental health. Mike Faist flawlessly funneled his anger into portraying the troubled Connor Murphy, and Rachel Bay Jones brought an authenticity to Evan's mother that resonates with all mothers. Platt and Jones both earned Tony awards for originating the roles of Evan and his overworked mother–only two of the six total awards the musical received. Only two members of the original cast remain, but all actors cast in the show since the depart of the original cast have brought a new dimension to the characters.
The relatability of the story of Dear Evan Hansen evokes hidden emotional struggles of social acceptance and self-confidence in every audience member. The powerful act one finale "You Will Be Found" leaves spectators young and old attempting to hide their tears when the lights come on at intermission. Teens especially relate to the role that social media plays in Evan's journey to self-discovery. Director Michael Greif saw that the topic of social media was incorporated into the set, music, and book, but was not overpowering and did not remove emotion from the real-life experiences of the characters.
We all can relate to Evan. We all feel alone sometimes, like no one can hear us or understand us. We all feel like we are, in the words of Evan, waving through a window, while people pass, unaware that we are there. Dear Evan Hansen has given a voice to those who feel they do not have one, and has touched the hearts, and even saved the lives, of people all over the world.