Athlete of the Month: Paul Williamson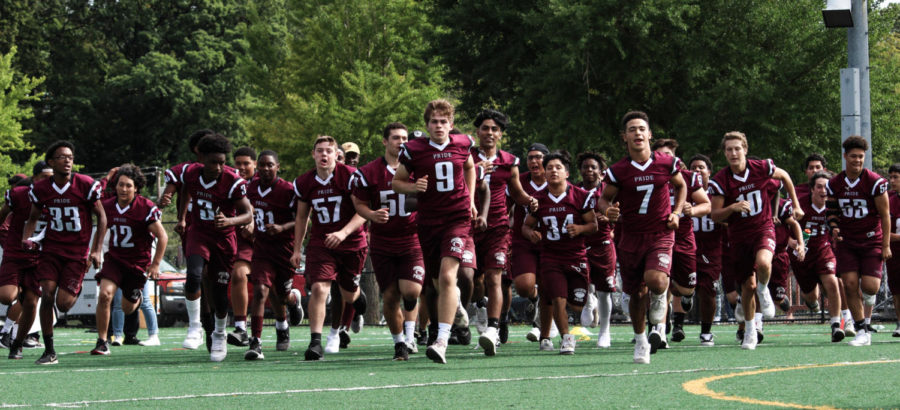 Ossining Varsity Football has seen great improvement in the last couple of seasons. Last year, under the guidance of Coach Dan Ricci, the team made it quite far into playoffs, much farther than previous years. After the loss of seniors James Sanchez, Cincere Morris, Farouk Capalbo, and Daniel Miranda, many questioned whether the team would flourish this year. Yet, the team has risen to the occasion, and started the season with three straight wins. Since then their record has progressed to 5-3, with losses against White Plains, Mamaroneck, and Port Chester, but these losses did not prevent them from making playoffs. With their first playoff win against Ramapo under their belt, the team looks to take down Ketcham next.
This year's team is full of standouts, including Isaiah Beltran, TJ Kamosa, JT Turnquist, and the team's star kicker, Paul Williamson. Whenever Williamson steps up to punt or score clinch another point with a field goal, the crowd is ecstatic. Friends and fans alike know the dependent kicker will always deliver. I recently spoke with Paul about his football career, and was surprised to find out that it has been relatively short. "I started playing football my sophomore year but I started kicking in seventh grade just for fun," Williamson said, "I played the last game [on varsity] that season as a sophomore, but then started officially junior year." Yet despite his short kicking career, Williamson has seen enormous progress, and wishes to play football at a Division III college. When asked what schools he is interested in, Williamson said, "I'm thinking about Union or Wooster." Both are small institutions; Unions College is in upstate New York and The College of Wooster is in Ohio.
In his pursuit to play football in college, Williamson has started training outside of school to elevate his kicking skills even more. "This summer I trained with a kicking coach in Connecticut every weekend, on top of kicking through the week locally," Williamson said of his summer regiment. Surprisingly, Williamson has not always had professional training. He "learned how to kick just by watching YouTube videos on it. This was my first year with official training."
As for the rest of the team, Williamson is confident that they will be able to advance well into the playoffs. "I think the team chemistry is very strong this year, as most of us are seniors and have been together for so long," he stated. Team chemistry off the field is essential to playing well on the field, and with the strong bond the football team shares, hopes are high. They may well perform even better than last year. With Coach Ricci retiring from the coaching position next year, the team is striving to make Coach Ricci's last game a win.
Click here to view Williamson's stats and highlights.