Indoor Track Begins
Will the Team Live Up to Expectations?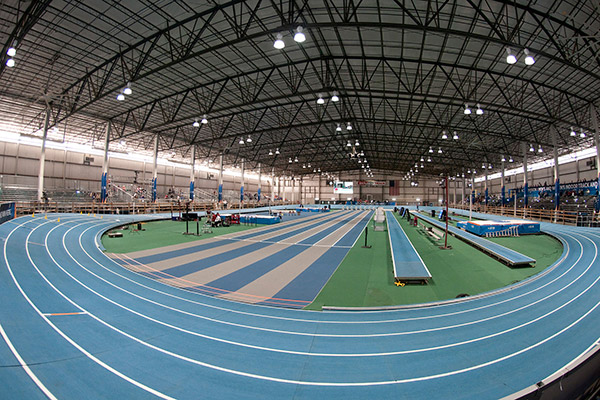 The indoor track season is creeping closer to its official opening–leaving many wondering how the team will respond to the fierce competition it will face in the coming months.  Expectations are high for the team, especially junior Patrick Saint Ange, who recently returned from the cross country States Championships. Coaches and teammates alike see an excellent season ahead of him; Saint Ange is seconds off of the state qualifying time in the mile, and hopes to improve his time before the season concludes.  Qualifying for states might be even more difficult this season than last, as the tri-state area is home to cutthroat competition during the winter months, due to its close proximity to the hub of indoor track–the Armory.  
The Armory consists of two facilities, one in the Bronx and one in Brooklyn, and attracts runners from all over the country and across the world.   Last year, the members of Ossining Varsity Indoor Track attended several meets where professional runners competed alongside high schoolers from the tri-state area and beyond.  This results in tough competition for the team, but they might just be able to keep up with some of the fastest teams of the area.  
Ossining's relays are at the fastest they've ever been, with the team breaking numerous records over the course of the past year.  The runners have only improved since then, and hope to continue taking down records one by one.  Standout relays include the varsity boys' 4×800, which consists of Patrick Saint Ange, TJ McBride, Kevin Victoria, and Patrick Rodrigues, and has broken a school record previously set in 1987.  The girls' 4×800 is also very promising, and with new additions Victoria Conzone and Angela Torricella, the team is sure to do well this season.  The boys' and girls' 4×200 relays are also hopeful, with the girls eager to honor alumnus and state champion Jhada Francis, who graduated this past June and is currently running at the University of Buffalo.  When Francis made an appearance at practice during Thanksgiving break, she was happily greeted by her former relay, Kiara Taveras, Ariana Cardenas, and Juliana Thompson, who excitedly said, "We don't disappoint.  We'll be bringing home medals for you."  The team has been radiating positive energy since before the season started, with numerous team members posting on social media about their excitement for the upcoming season, and the energy has not died down.  The team is eager to step into the Armory for the first time this coming Friday, and hopes to live up to the hopes of their coaches–as well as the hopes they have for themselves.