A Historical Overview of the Nagorno-Karabakh Conflict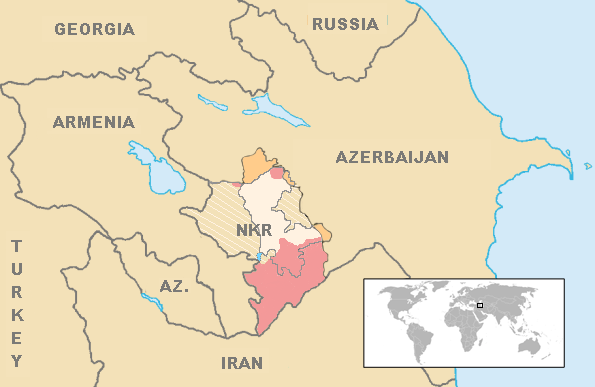 The Nagorno-Karabakh conflict began in the 1920s when the Soviet Union established the region. Ninety-five percent of this autonomous region was ethnically Armenian, despite it being located in Azerbaijan. While Nagorno-Karabakh was controlled by the Soviets, tensions between the Armenians and Azerbaijanis were controlled. However, as the Soviet Union weakened, its control over the region diminished as well. In 1988, a resolution passed by the Nagorno-Karabakh legislature declared its union with Armenia, despite it being officially recognized as Azerbaijani land. The peaceful state following this resolution did not last long, as tensions between Azerbaijan and Armenia escalated, and soon led to violent conflicts between the two nations. Several groups, including the Organization for Security and Co-operation in Europe, intervened, but failed to resolve the conflict. Despite its many losses within the years of fighting, the Armenian military captured 20% of Azerbaijani land outside the enclave and took control over Nagorno-Karabakh by 1993. The Azerbaijan and Armenia governments have both accused the other of conducting ethnic cleansing and pogroms against their people during the war. While Russia was able to intervene and instate a cease-fire that has been enforced since May of 1994, the conflict between Armenia and Azerbaijan resulted in about 30,000 casualties and hundreds of thousands refugees. 
Since 1994, small border skirmishes between Armenia and Azerbaijan have occurred within the Nagorno-Karabakh region. As these two military forces are located in close proximity to each other, but have no communication, it is likely that inadvertent military action contributed to these small conflicts. However, the domestic political interests of the nations' leaders also threatened to escalate conflict between the two nations. A large-scale conflict between Armenia and Azerbaijan would be especially dangerous and advantageous, as it could disrupt gas and oil exports for Central Asia and Europe. It is also believed that alliances between Russia and Armenia, and Turkey and Azerbaijan could threaten peace and potentially further destabilize the volatile region.
Recently, due to a lack of mediation, increased militarization, and multiple cease-fire violations, the conflict between Armenia and Azerbaijan has escalated. In September of 2020, Azerbaijan was accused of attacking civilian villages in Nagorno-Karabakh. Azerbaijan's defence ministry claimed that a counteroffensive plan was launched to decrease Armenia's combat activity. As a result, Armenia declared martial law and prepared for total mobilization. In response to these actions, officials in Nagorno-Karabakh declared martial law and instructed citizens to move. Both Armenia and Azerbaijan utilized powerful long range rocket artillery. Due to the large scale of fighting and enormous amount of casualties, Turkey offered support to Azerbaijan. Initially, Armenia and Azerbaijan resisted other countries' pressure to end the conflict. In October of 2020, Russia signed a cease-fire, but it broke down. France negotiated two cease-fires in conjunction with Russia and the United States, and then individually with the United States. As fighting continued with confirmed breaches by both nations, these cease-fires also collapsed immediately. In November of 2020, Russia brokered a peace deal between Armenia and Azerbaijan. Almost 2,000 Russian soldiers have been deployed to the Nagorno-Karabakh region, with the intent of keeping peace between the two nations. Although the region currently remains peaceful, the cease fire did not resolve the issue regarding the status of  Nagorno-Karabakh. Analysts caution that without a comprehensive peace treaty, chaos may ensue, especially considering the price and risk of Russia deploying so many peacekeepers.
Disclaimer: This article used information The New York Times, The Washington Post, Aljazeera, and the Council on Foreign Relations's website to help in writing this piece.