Artist of the Month: Rene Tenesaca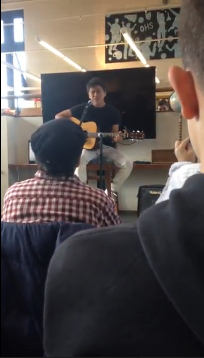 Hang on for a minute...we're trying to find some more stories you might like.
For the month of February, The Current features musician Rene Tenesaca as the Artist of the Month. Rene, a senior at Ossining High School, flourishes in several music classes as a well-performing singer and guitar player. He has displayed his growing love for music through his enrollment in various music courses throughout high school, such as two years of Gimme the Mic, two years of Guitar, and Musical Theory. His profound artistic ability is currently best displayed through the Gimme the Mic class, where Rene performs at school concerts, often times in collaboration with other OHS students.
Rene plays a single instrument, the guitar. He used to have private lessons until he heard about the guitar classes offered at Ossining High School. Since freshman year, Rene has integrated himself into the amazing music department at OHS. He performs songs of different musical genres. Rene has a preference for singing Spanish music, as well as popular pop music, but this all depends on what he is capable of playing on his guitar. Rene loves to collaborate with other students. "It's fun to collaborate with friends", says Rene, "I get to see the music style of others, and am able to work with this, as well as work with different voices, and combine this into one authentic performance. I receive input as well as am able to help my partners.".
Rene does not only pursue music during school. At home, Rene receives musical support from his family. "Music is more of a hobby for me now", says Rene. Rene has performed songs for parties and local concerts, including fundraisers, as well as for the music group at his church. "I've played guitar since middle school. I developed a strong passion for music when I found out how amazing playing the guitar was, and this has driven me to continue playing," says Rene. 
Although Rene has the grand support from his family and friends, Rene has yet to decide what he will pursue after high school. Once seeing himself as becoming a music major and a music teacher, Rene is still unsure due to his varied interests. However, undoubtedly Rene will continue to further his musical ability wherever he goes. He seeks to participate and contribute to the music program of whichever college he goes to, and continue to create remarkable performances such as those staged at OHS. 
"I plan to study music more, learn about the history, specifically of the guitar, and to learn to play more instruments like the piano and ukulele. I love teaching kids how to play the guitar, and about music in general."