Eva Noblezada and Jon Jon Briones Make Debuts Worth Remembering in "Miss Saigon"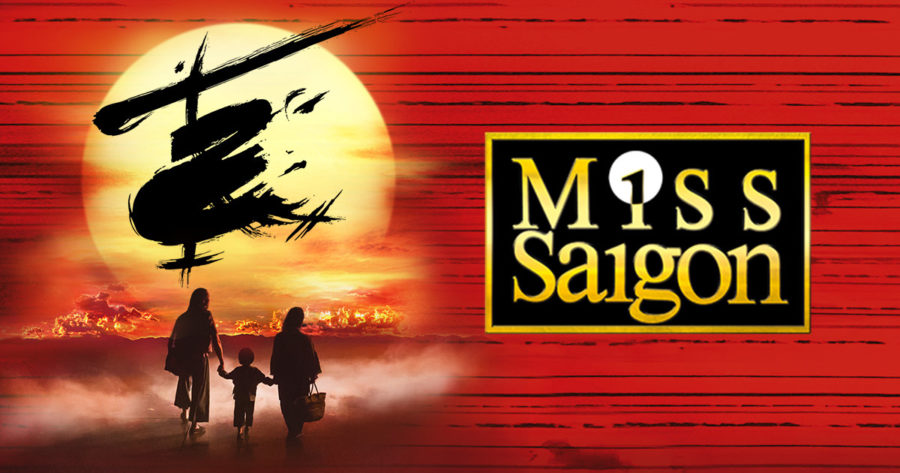 "Miss Saigon" has an extensive history, journeying from the stages of the West End in London to the Broadway Theatre in New York City not once, but twice.  The original production featured Lea Salonga as Kim, a recently orphaned seventeen-year-old girl.  (Salonga is also known for her performances as Mulan, and as Jasmine in "Aladdin".)  The cast also included Jonathan Pryce as the Engineer, a hustler and owner of the club at which Kim works.   "Miss Saigon" opened for the first time in 1989 at the Theatre Royal, Drury Lane, in London, and had a ten year run in the West End.  While it was still running in London, the musical found a home on Broadway in 1991, and after 4,000 performances, the show closed in 2001.  The Broadway production received a Tony Award nomination for best musical, and saw three of its actors win Tony Awards for best leading actor in a musical, best leading actress in a musical, and best featured actor in a musical.
Yet, this was not the end of the road for "Miss Saigon", for it was revived in 2014 in the West End, and once again made its way back to Broadway in 2017.  The cast of the West End revival and the Broadway revival are almost identical, starring Eva Noblezada as Kim, Jon Jon Briones as the Engineer, and Alistair Brammer as Chris, with all three actors making their Broadway debut with the show.
"Miss Saigon" tells the story of a young girl, Kim, who is living in Saigon during the Vietnam War, working in a club ran by a man who goes by "the Engineer".  While working at the club, Kim meets Chris, and American G.I. stationed in Saigon.  Kim becomes pregnant with Chris's child, but is devastated when Chris leaves to go back to the United States.  She is left with their child, fending for herself in a time of political unrest in Vietnam, and killing the man she was destined to marry: an officer in the communist Vietnamese government.  Kim goes into hiding, but never loses faith that Chris will one day return and take her and their son to America.  Chris eventually returns to Saigon, but not alone.  This time he is accompanied by his wife, Ellen.  Upon realizing her family will never be whole again, Kim decides that she will do anything to make sure her child leads the life he deserves–one she cannot give him.  She makes the ultimate sacrifice for her son–shooting herself and dying in Chris's arms.
The raw emotion required to accurately depict the story of "Miss Saigon" is rarely seen in an actor, yet the cast of the Broadway revival perfectly captured the emotions of the troubled orphan, G.I., worried wife, hustler, and communist officer.  Eva Noblezada has made a name for herself with the role of Kim, rivaling the legendary performance of Lea Salonga, a woman whom Noblezada idolizes.  Noblezada flawlessly captured the passion a mother has for her child, and does not hold back when bottled emotion results in a scream, from which all audience member receive chills.  Her vocal range parallels the range of emotions Kim feels throughout the show, and her strong voice cuts through the obstacles, noise, and doubt that surround her.  Jon Jon Briones starred in the original West End production as an ensemble member, and has worked his way up the ranks to the male lead.  His portrayal of the Engineer is different from the original, and is more mischievous and conniving, yet simultaneously likeable.  He is the epitome of immoral, yet provokes an unexpected sympathy from the audience.  Alistair Brammer plays the handsome G.I., and although his appearance and speaking voice match the role, his singing is unexpectedly high and nasally, and does not remind one of a tough American G.I.
Noblezada's and Briones's Broadway debuts were stunning, and their performances are sure to give way to many more lead roles in the future.  Rachelle Ann Go, Katie Rose Clarke, and Devin Ilaw all put on performances worth seeing, performances that rival those of Brammer.  Overall, the revival of "Miss Saigon" is a musical worth seeing.