Athlete of the Month: Thomas McBride
Hang on for a minute...we're trying to find some more stories you might like.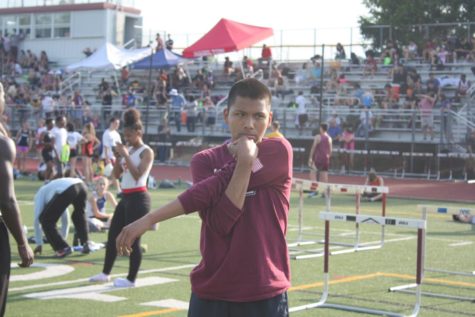 More stories from Darwin Arias
To start off the 2017-2018 school year, The Current is featuring rising senior Thomas (TJ) McBride as Athlete of The Month. McBride has excelled as a striving and dedicated runner on the Ossining High School's Varsity Cross Country, Indoor Track, and Outdoor Track team. His dedication is seen through his commitment to the Varsity Indoor and Outdoor Track team for all of his high school career, including two years of Modified Track for his time at the middle school, and two seasons of Cross Country his junior and senior year. He strives as a well-rounded athlete, transcending his athletic capabilities as a sprinter, mid-distance, and long-distance runner. His leadership and charisma have lead to the establishment of McBride as the senior captain for both cross country and track and field teams (he has been a track captain since his freshman year). McBride is worthy of recognition as one of the most prominent athletes at Ossining High School. Following is an interview with Athlete of the Month, Thomas McBride.
TC: What is your athletic history? What sports have you done in the past? What sports do you plan to participate in this school year?
TM: Well, I grew up playing baseball and Little League (Flag) Football. My first sport was baseball and I think I started playing when I was five. I continued to play through the JCYS league until I was a freshman, which is when I decided to focus more on spring track and my schoolwork. I also played on a Flag Football summer travel team for a few years up until the summer of last year. I've been running track since Modified in 7th grade and have been on both Varsity Indoor & Outdoor Track & Field teams since I entered high school. Last year was my first time on the school's cross country team. Currently, this year I am in the middle of my cross country season and plan to continue running track in the winter and spring seasons.
TC: What events in track and field/cross country do you run or prefer to run?
TM: I am a fairly diverse runner. I participate in many different running events that range from very short (sprinting) to long (cross country) distances. Initially, I began my track career as a sprinter and moved up the distance range as I progressed through high school (however I do occasionally run a sprinting event). Events I run now include: 100m, 200m, 300m, 400m, 600m, 800m, and 5K in cross country. I prefer running any middle-distance events, between 200 to 800m.

TC: What are your personal records?
TM: My personal records are:
55m (indoor) – 7.96
100m – 13.34
200m – 23.50
300m (indoor) – 37.31
400m – 52.22
600m (indoor) – 1:27.66
800m – 2:06.92
5K (cross country) 20:28.20
TC: What season do you prefer and why?
TM: Although I do enjoy running outside, I think that I prefer the Indoor Track season the most because of the opportunity to run on the Armory Track in the city at almost all of the indoor meets. It is a great track with an exciting atmosphere as it withholds many of the big and well-known meets. I feel like the team has more chances to medal due to the large number of meets that the Armory Track hosts. I like that there is more competition and we get to compete with other teams in our Section more often (our section has been titled the fastest section in the state).
TC: What influenced you to join Cross Country as a predominantly middle-distance runner?
TM: When I started high school track, I entered thinking that I was going to be a short distance sprinter because all I knew was that I was fast. After running the 55m and the 100m my freshman year, I realized that those events were too fast for me. I rather felt more comfortable running the 200, 300, and 400m events. Over a couple of running seasons of trying to keep up with the long-distance runners on the team through training and long-runs, I realized that I had a stronger endurance than I initially thought I had. Since running middle-distance events were fairly new to me, I held back in join cross country until my junior year, when I decided I wanted that extra training in preparation for the following winter season. In hindsight, I really regret not attempting the cross country season in my earlier high school running career as I truly enjoyed the season, made significant improvements on my 5k time, and would have had additional training that would have put me in a better athletic position and allowed me to start running my best events earlier.
TC: What are your set goals?
TM: In indoor track I would like to improve on my 300m pr by at least 2 seconds to make running a sub-50 second 400m in the spring more accomplishable. I would also like to lower my 600m time by 2 seconds, but hope to run even faster in purpose of strengthening my chances of running a sub 2 minute open 800m.I hope to reach the low 22's or even sub-22 seconds in the 200 by the spring. My goal for this cross country season is to break 20 minutes in the 5k.
TC: What athletic achievement are you most proud of?
TM: The athletic achievement I am most proud of is the one I share with my 4x800m relay (Kevin Victoria, Patrick Rodrigues, and Patrick Saint Ange). At the U.S. Army Hispanic Games in the last winter season, we broke the school record for the 4x800m relay event by about 4 or 6 seconds. We later demolished that record by an even greater amount, running a time of 8 minutes and 19 seconds, which was about 21 seconds or so faster than the previous school record that stood since 1987. In the spring season we additionally broke the outdoor school record for the event. The school record-breaking performance was a great moment for us that winter, and I know we will aim for an even greater 4x800m pr this upcoming track season.
TC: What is the biggest challenge you have faced during your athletic career?
TM: My biggest challenge is one that I have to yet overcome: running a sub-50 second 400m. For an improved pr in the spring, I hope to break the barrier this winter.
TC: What do you plan to do with your running career?
TM: I plan to continue running track & field in college. I feel that there will be more diverse competition. I like that I will have the chance to travel to other places, such as other colleges, that I have not been to.