Wakanda Forever: Remembering an Industry Titan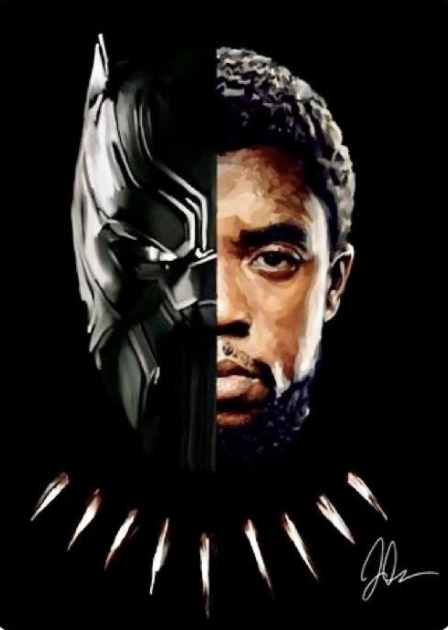 The surprising news of actor Chadwick Boseman's death has left fans and industry peers in shock and despair. The 43 year old passed away in his Los Angeles home after a four year battle with colon cancer. Boseman's wife, Taylor Simone, and other family members were with him when he died. Boseman reached critical acclaim for his portrayal of James Brown, Jackie Robinson, and Thurgood Marshall, and King T'Challa. Between films, Boseman battled chemotherapy and underwent countless surgeries to combat the progression of the cancer. In a tweeted statement, Boseman's family said that he was a "true fighter," and he "persevered through it all, and brought you so many films that you have come to love so much." 
The Black Panther actor was born and raised in Anderson, South Carolina, where he grew up playing AAU basketball and Little League Baseball. Boseman later graduated from Howard University, where he wrote plays and directed in theater, and was cast in small television roles before landing his breakthrough role. When he was 35 years old, Boseman was cast as the leading role, Jackie Robinson, in the film 42. His outstanding depiction of Jackie Robinson piqued the interest of esteemed directors in Hollywood and the Marvel Cinematic Universe. 
Appearing in the Marvel Cinematic Universe film Captain America: Civil War in 2016, Boseman starred as King T'Challa. Boseman soon became a beloved part of American popular culture and his famous "Wakanda Forever" solute would be remembered by the masses following the release of the film Black Panther. Black Panther ended up being very successful and became one of the highest grossing films of all time. It rapidly became a cultural sensation as it was the first major superhero film with an African-American man cast as lead actor. Writer Jamelle Boui said that Boseman portrayed the comic book superhero with "regal and confidence and real vulnerability." Black Panther's widespread popularity elicited a fraction of hope, pride, and empowerment for black movie-goers across the world. In addition to taking on the role of Robinson, Brown, and T' Challa, Boseman took on his first job as a producer in last year's action thriller 21 Bridges, which he later starred in. Boseman went on to complete one last performance in a Netflix Adaptation of August Wilson's Ma Rainey's Black Bottom.
In the wake of Boseman's death, fans took to the internet to express their shock and grief, and social media users honored Boseman's life and his impact on Hollywood. Actors, athletes, musicians, fans, and politicians all over the world mourned the loss of the Hollywood trailblazer. Viola Davis, who acted beside him in the film Get Up, said, "No words to describe my devastation of losing you. Your talent, your spirit, your head, your authenticity." Denzel Washington, who funded a scholarship Boseman used to study at Oxford, stated, "He was a gentle soul and brilliant artist, who will stay with us for eternity through his iconic performances." Chris Evans, the actor that portrays Marvel's "Captain America," called Boseman a "true original." Evans continued, "He was deeply committed and constantly curious artist. He had so much going for him." Former President Barack Obama later tweeted "Chadwick came to the Whitehouse to work with kids when he was playing Jackie Robinson. You could tell right away that he was blessed. To be young, gifted and Black; to use that power to give them heroes to look up to; to do it all while in pain- what a use of his time."
Boseman's impact on representation in Hollywood has paved the way for a bright, diverse, future in film as he advocated for accurate portrayals of cultures in the movie industry.  While shooting Black Panther, Boseman encouraged his fellow castmates to speak in authentic South African accents, and led on set discussions about ancient African symbolism and spirituality with the cast. Actor Simu Lui, who starred in Marvel's first film focused on an Asian character stated that, "Without Chadwick, and what he gave to his character, there is no Shang Chi. Period. My career rides on the coattails of a great man."
Chadwick Boseman has affected millions of people around the world and continues to inspire through the dignity and strength he exhibited throughout his life. Boseman was not only an esteemed and beloved actor, he was a person who brought pride to the fight for racial justice. Through his outstanding and breathtaking performances, Boseman not only paved the way for Black actors and actresses, he beautifully depicted African-American historical figures. Chadwick Boseman has had an indisputable impact on the movie industry, and continues to be an inspiration through his astonishing and authentic performances. 
"We know what it's like to be told there isn't a screen for you to be featured on, a stage for you to be featured on. (…) We know what's like to be beneath and not above. And that is what we went to work with every day. We knew that we could create a world that exemplified a world we wanted to see. We knew we had something to give."
  -Chadwick Boseman
Disclaimer: This article pulls upon coverage from The New York Times and The Boston Globe