February Athlete of the Month: Adriana McFadden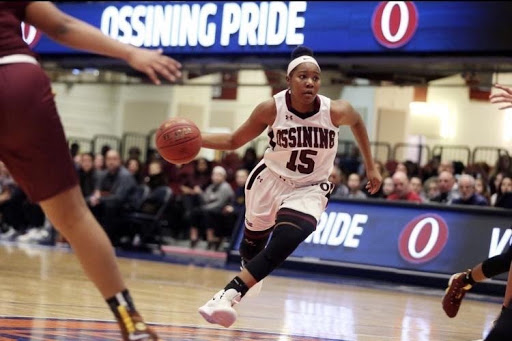 Our Athlete of the Month for the month of February is Adriana McFadden.  Adriana is currently a senior on the Ossining Girls' Basketball Team. In thirteen games played so far this season, Adriana is currently averaging 14.1 points per game, 2.7 assists per game, 6.5 rebounds per game, and 3.3 steals per game, all fours stats of which are above the national average.  In fact, her points per game has increased from 4.3 in the 2018-2019 season to 14.1 in the 2019-2020 season. Adriana, a 5'6" shooting guard/small forward, is a captain for the Girls' Team this year as well. In a game played by Ossining last week, Adriana sparked the team with a ten point win against Somers, finishing with 16 points, 10 rebounds, and 5 steals.  After the game, Adriana was voted Player of the Day on Lohud Sports and was quoted by Mike Doughtery: "She never hits the pause button." This single game shadows her performance level this season which has helped the team to get to 4-0 in the league and maintain an above .500 overall record so far.
When asked to give a short summary of her basketball career, Adriana replied, "The first time I started playing basketball on a team was in 4th grade with CYO.  After a year of playing, I instantly fell in love with the game. I continued to play on other AAU teams up until the 7th grade. When I was pulled up to Varsity during the 8th grade, I was excited to be a part of a winning team.  While being on the team, I have played every position. Currently, I play the forward position."
Adriana's response to describing her high school career in one sentence – "I would describe my high school career as unforgettable and it taught me many life lessons."
When questioned if she would continue to play basketball after high school, she answered, "Yes, if the opportunity is presented."
To conclude the interview, Adriana was asked what one goal she wants to accomplish with her team this season, which she responded, "One goal I want to accomplish with my team this season is to make it to the state championship!"
On a current four game winning streak, the Ossining Girls' Basketball Team is presently ranked 4th in the Lohud Sports Power Rankings for all of the girls teams in Westchester.  With five games remaining before the start of Sectionals, Adriana hopes to help her team whatever way possible so that they can land a top seed for the playoffs. We wish the team nothing but the best for the upcoming weeks!